Currently Available Language Versions of The Messages and Heaven is Real
2016-06-04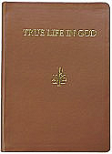 Looking for Foreign Language versions of the messages?
Lucien Lombard started in 1997 (19 years ago) and has constantly updated 2 Bibliography pages of all True life in God Publications. He recently updated his website pages for "OneBook" (the latest version of all the Messages) and Heaven is Real But So Is Hell .
Here are his Bibliography web pages:
http://vassula.org/bibliogr.htm All Language Versions of "OneBook"
http://vassula.org/bgr_hir.htm All Language versions of "Heaven is Real "